ABOUT US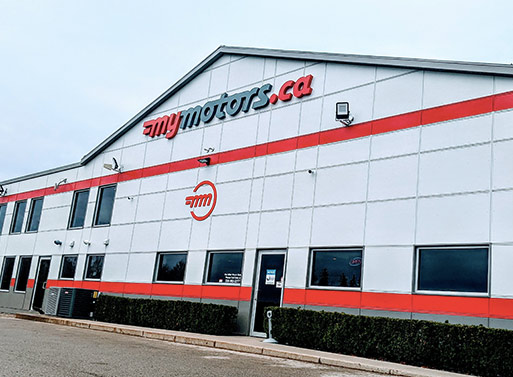 The industry is ever changing and so are businesses. After operating for 18 successful years as Tillsonburg C.A.R.S, the company commits to a change setting another milestone for them. They took the significant step in rebranding and renaming their business to MyMotors.ca.
From the beginning in 2000, they have remained consistent in delivering a complete range of quality auto repair services. The former Tillsonburg C.A.R.S was managed and operated by Pat Buyse and his wife, Nora. The company was a known family owned and community-based business.
Along with the change, there are also remarkable alterations, more improved service offerings and a larger team, ready to assist clients in their needs. Now, the company is no longer only a full-service garage. It offers superior quality, pre-owned cars for sale. The company is a well-established classic muscle and restoration company. Upon successful renaming and rebranding, MyMotors.ca takes pride in its better services and excellent, reliable team.
According to the owner (Pat Buyse), they are car enthusiasts first and secondly have a passion for selling, buying, restoring and servicing cars of any make or model. He even revealed that if he didn't own a shop, he would still be working on cars. They have always been a great obsession and interest to him.
Prominent car collector and businessman, Mike Perovich, met Pat due to his need for service repair and to help enhance his own collections. Mike Perovich instantly recognized Pat's excellent talent and knowledge in the field, so he decided to buy into the business. Now, Pat and Mike are business partners. They continue to develop, as well as, build the business together.
Part of this rebranding and further development is the introduction of a few new members in the staff. Dale Thibeault has been appointed as the new Sales Manager. He is responsible in overseeing the procurement and sales of pre-owned vehicles. He is noted for his 20 years of knowledge and experience in the car trade. He has built and managed new car franchises. He is an enthusiastic, hardworking dedicated and customer driven individual and considered as the company's great asset.
We also have 2 knowledgeable and experienced Finance Managers Ryan Palmer and Tanya Gould. Both Ryan and Tanya are specialists in what they do! If you have good credit, bad credit, or no credit.... they will get you approved!
Accompanied by our Director of Wholesale & Inventory Pedram Saisan, who is our buyer and responsible for stocking our inventory. Ped knows the vehicle market like no other!
Leia Dare has joined our sales team as the Auto Sales Coordinator. Stocking in new vehicles, running MyMotors.ca social media sites, and photographing all vehicles, Leia is a great asset to the team!
Also joining MyMotors.ca is our newest member of the sales team Andrew Eynon. His kind manner and willingness to learn will go a long way in his career!